Our next event, the last before this year's Quizzing World Championships (in Masham, North Yorkshire) sees us back at the Rolleston Club on the Staffordshire/Derbyshire border, close to the UK's brewing capital, Burton on Trent. The day will feature a Grand Prix individual quiz, an internationally-flavoured Hot 100 quiz, and a fun team event. We're expecting a visit from local TV - they're keen to see what we're about and interview folk.
Sign-up for the event
HERE.
Venue:
Rolleston Club
15 Burnside
Rolleston On Dove
DE13 9DN
Schedule
11.00 Registration
11.30 Individual Quiz
13.00 Marking
13.45 Lunch
15.00 Hot 100 (45 minute, 100 question individual quiz against a global field)
16.00 Team Quiz (players assigned at random on the day)
17.30 Prizes and close
Entry: £25, lunch provided, £12.50 for first time attendees.
Aperitifs and Apres Quiz
The evening before and after the event will provide further opportunities for people to get together and socialise, and, er quiz. There are plenty of suitable, quality pubs serving excellent real ale wherein quizzers can gather on the Friday night before the event. Anyone interested should drop me a line, and watch these forums for updates.
Similarly, on the Saturday, for those staying over (or just staying late) I propose the double treat of a visit to the Coopers Arms in Burton (an historic watering hole regularly listed as one of the finest 10 pubs in England) followed by a trip NEXT DOOR to a truly excellent (and cheap) curry house which is unlicensed - and which is pleased for you to bring in ale from their neighbour, who will, for instance, sell you a 4 pint jug of foaming real ale for a measly £10. This is something not to be missed and I heartily encourage you to contact me asap about this since places may have to be limited to 16! Please note: the restaurant is so buy on Fridays and Saturdays that they just have 2 sittings, 7.00pm and 9.00pm. I'm proposing that we go for the latter, so we can visit the pub first.
To this end, anyone planning to attend Saturday night (especially) or Friday evening, can I suggest you consider booking into the nearby,
Travelodge
(rooms from £37.50 a night), which is just across the road from Burton Train station and a £5 cab ride from the venue (which, split three or four ways shouldn't be prohibitively expensive). It is also just a few minutes walk from the pub/curry house.
About Rolleston
Located just north of Burton-On-Trent, a mile or two from both the A38 and A50 main trunk roads,
Rolleston on Dove
is the quintessential Old English village, complete with thatched cottages and a babbling brook, The Dove no less, running through it.
An interesting venue, the Commemoration Hall, designed by Arthur Eaton of Derby, was opened in 1897 to coincide with the Diamond Jubilee of Queen Victoria. It stands on the east side of Burnside. A lounge bar was added in 1965 and it has been known as Rolleston Club since 1971. It was renovated and extended in 1974.
Rolleston was formerly the location of the ancestral home of the Mosley family, prosperous landowners around these parts. It was in Rolleston Hall that the notorious fascist Sir Oswald Mosley was born in 1896. The hall was sold by auction in 1923 but later burnt down. All that remains are the lake and gatehouse. The family's coat of arms are displayed in the club.
Real ale fans will know that Burton is the home of brewing. In addition to the club's regular fare, which includes ales such as Marston's Pedigree, Bass, and HSB, the steward is being asked to lay-on some additional real ale from a local micro brewery!
Local attractions (excursions on Friday or Sunday perhaps?) include…
Tutbury Castle
(2 miles)
For many years the prison of Mary Queen of Scots and the hub of a Royal Stud owner by Charles II. The
castle
is leased to, and run by, TV 'historian' and ghost hunter Lesley Smith.
As well as being visited by Mary Queen of Scots and Oliver Cromwell's forces, Tutbury has a number of claims to fame. In 1831 two workmen discovered
5000 silver coins
in a single day (eventually some 100,000 were recovered) all from a haul believed to date from the reign of Edward II and attributed to the treasury of the rebellious Thomas, Earl of Lancaster. In November 1944 the nearby Fauld depot became the site of the
largest ever explosion
in the UK, when 3,670 tons of bombs stored underground exploded en masse Only three larger blasts were recorded during WWII - those at Hiroshima, Nagasaki and the New Mexico Tests. Afterwards a crater, half a mile across and 100 feet deep was left behind.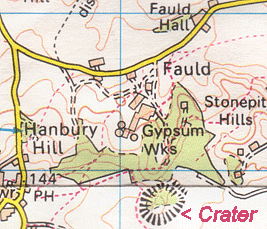 Tutbury
itself has a number of other attractions. Cut glass has been manufactured here for many years and a tourist trade has built upon the long and distinguished history of the
Norman Priory Church
and medieval castle, and some fine Georgian and Regency buildings. There are antique and craft shops in the village as well as a factory shop at the Georgian Crystal glassworks. Unfortunately, the Tutbury Crystal factory has now closed although they still have a shop on Tutbury High Street.
Visit the
Discover Tutbury website
for more information.
National Museum of Brewing
(4 miles)
The National Brewery Centre
is a world-class museum and visitor centre that celebrates Burton upon Trent's proud brewing heritage and it's influence on brewing techniques throughout the world. People without their own transport who are planning to visit the museum might consider the
Three Queens Hotel
with its new,
lodge extension
in Burton for a stop-over, since it is in walking distance of the museum, and across the road from the
Burton Bridge
brewery and Inn!
Sudbury Hall & Museum of Childhood
(8 Miles)
Museum
showing aspects of the life of children over the past 200 years.
National Memorial Arboretum, Alrewas
(13 miles)
Set in 150 acres of land, and open every day from 9am to 5pm, there are over 140 memorials
Lichfield Cathedral
(14 miles)
Attractions include the magnificent cathedral, homes of Dr Johnson and Erasmus Darwin and the new David Garrick Theatre.
Kedleston Hall
(15 Miles)
Experience the age of elegance in this
neo-classical house
built between 1759 and 1765 for the Curzon family and little altered since.
Other places of interest within a 15 mile radius include Donington racetrack, Twycross Zoo, Alton Towers, and Tamworth Castle
Other Accommodation:
Brookhouse Hotel:
The nearest accommodation to the venue. I am endeavouring to once more negotiate a discount on this one, so if you are considering it, perhaps hold off till Friday this week.
Telephone 01283 814188: Website
http://www.thebrookhouse.eu/tariff.htm
Dovecliff Hall Hotel:
located between Rolleston and the A38, just over a mile from the venue. Set back from the road, this is an elegant Georgian House dating back to 1790, sitting in seven acres of gardens adjacent the River Dove. The hotel has 15 bedrooms. Once again, it's anything but cheap but there are usually special offers to be had.
Telephone 01283 531818: Website:
http://www.dovecliffhallhotel.co.uk/about-us/contact-us
Ye Olde Dog & Partridge:
2 miles away in Tutbury centre. High St, Tutbury DE13 9LS. This is a large and popular pub with Chef & Brewer restaurant based around a 15th century coaching house. The latter has rooms available for B&B with (allegedly) ghosts thrown in at no extra charge. They have nine bedrooms, free wifi, and ample parking.
Part of the Good Night Inns group, late last year the Dog & Partridge was offering 3-course Dinner B&B (continental breakfast) for two in an en suite room for £85.
Telephone: 01283 813030 Website:
http://www.goodnightinns.co.uk/GoodNigh ... -Partridge
Woodhouse Farm Bed & Breakfast:
just outside Tutbury village, looking down over the Dove Valley. From the crossroads in the centre of the Village (by the Post Office), just head out past the castle (on your right) and you will find them on the left about half a mile from the village.
Castle Hotel
Station Road, Hatton DE65 5DW (between Tutbury and the A50 and close toTutbury & Hatton Rail Station) Telephone 01283 813396.
Last time I checked a single en suite can be had from £50 inc. cooked breakfast. Twin from £70.
Delter Hotel
5 Derby Road, Burton upon Trent DE14 1RU. 01283 535 115 This B&B is in Burton upon Trent, a mile or so towards the venue from the Railway Station, on the main road going north out of the town. It is also within striking distance of the Museum of Brewing, Burton Albion FC, the Bilash Spice restaurant and the excellent Prince Alfred Pub and Great Northern pub (both have the same beer as the Burton Bridge Brewery and Inn).
Lots more choices
HERE.
Travel:
Road Directions
N.B. If you are planning to use the A511 into and out of Burton, i.e. using the old Trent Bridge, there are roadworks on the bridge for the next couple of weeks and the bridge can only be used travelling INTO the town, access to the east bank of the Trent involves following a diversion to use the newer bridge (about a mile upstream) and this involves a circular route around the town centre. Feel free to contact me if you're likely to be affected and want to discuss this further.
Coming via the M1 from the North
Leave M1 at Junction 28, take A38 Derby exit at roundabout. Stay on A38 and nearing Derby, signs will change to A38 Burton-on-Trent. 10 miles further on take the Burton North/Clay Mills junction - stay in right hand lane going up the slip road and be prepared to make a series of right turns, so that you come back on yourself, as if to rejoin the A38 going in the opposite direction. As you start to go down the slip road there is a left turn signposted for Rolleston and Tutbury. Take this turn and follow the road for about a mile. After passed through countryside you come to an area with housing on the left, and numerous speed bumps etc. in the road. After a half a mile you approach the centre of the village and will see a large pub, the Spread Eagle, situated just beyond a small stone bridge. Turn left immediately BEFORE the bridge. The Rolleston club is on the left, about 50 yards further on. Turn left at the end of the building's frontage for access to ample off-road parking.
Coming via the M1 from the South
Leave M1 at Junction 24 onto the A50 - Stoke Road. Leave A50 at Junction 4 for A38 Burton and follow signs as above, looking for the Burton North/Clay Mills junction after a mile or two.
Coming via the M6 from the North
Leave M6 junction 16 onto A500 follow signs for Stoke and exit onto A50 Uttoxter/Derby. Stay on A50 and exit at Burton on Trent junction by Hays Dove Valley Distribution and follow signs for Burton. Turning right at Salt Box junction, go through Hatton and then straight over mini roundabout and first left at next roundabout onto bypass. At next roundabout take the first left for Rolleston and follow the road round into the village. Just after the Spread Eagle pub (on your right) is a small stone bridge, turn right IMMEDIATELY AFTER the bridge, the Rolleston club is on the left, about 50 yards further on. Turn left at the end of the building's frontage for access to ample off-road parking.
Coming via the M42
Take junction 9 off M42 following signs for Lichfield, passing The Belfry golf course. Keep following Lichfield signs and you will arrive at A38. Stay on A38 towards Derby and take the second Burton exit marked Burton North/Clay Mills. There is a very tight turn at the exit and once you straighten up you will see a right turn marked for Rolleston and Tutbury. Take the turn and follow the road for a mile to a mile and a half. You will reach an area with houses on the left, the road having numerous speed bumps etc.. A half-mile further on you approach the centre of the village and will see a large pub, the Spread Eagle, situated beyond a small stone bridge. Turn left immediately BEFORE the bridge. The Rolleston club is on the left, about 50 yards further on. Turn left at the end of the building's frontage for access to ample off-road parking.
BY RAIL
Derby station (direct London) is about 10 miles away. Connections are available to Burton but it may be better to get one of the express busses which run to Burton, visiting the villages along the way.
Burton upon Trent station - 4 miles